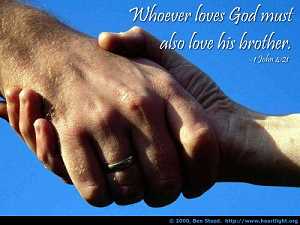 Gentlemen,
Tuesday we continued our Galatians series with a discussion of 6:1-10.
"Brethren, if a man is overtaken in any trespass, you who are spiritual should restore him in a spirit of gentleness. Look to yourself, lest you to be tempted. Bear one another's burdens, and so fulfill the law Christ."
1) How are we to restore each other?
Bob noted that it is important to be able to identify trespasses. Trespass is sin but most fall into sin gradually. We must have the type of relationships that allow us to correct each other before we get to far off track.
Jim said that we are to restore with gentleness. We attract more flies with honey.
Joe said that there will be times when a brother doesn't welcome being restored. In those instances we must love enough to tell them the truth. In most instances our brother will later recognize we were only looking out for their best interests.
2) How are we to bear each others burdens?
Jack said that we tend to be like a bag of marbles. We don't want to interact in a meaningful way with each other. When our lives interact we bounce off each others. We should be like a bag of grapes. When we interact we should get all over each other. Christ wants us to be concerned about and ready to meet our brothers needs.
Grady reminded us of Jesus words 'If you love one another they will know you are my disciples."
3) How are we to earn eternal life?
We agreed that we do not 'earn' salvation. We are saved by belief in Christ. Paul is addressing the process of sanctification — the process by which we are transformed into the image of Christ. We grow as we feed the Holy Spirit that lives in us.
Next week 6:11-18. Consider the following questions:
1) What does it mean to 'glory in the flesh'?
2) What does it mean to be a 'new creation'?
See you Tuesday.
John